So May 19 has dawned again and today has been so unlike any 2 year Anniversary I could have ever imagined.. Life really has changed drastically here with my whole leg still being bandaged up from my surgery 5 days ago. Mornings have definitely been the worse and this morning was no different, me, not being able to get out of bed alone and then when I finally do so with my hubby's help, sitting in the bathroom in a chilled state of sweat, feeling extremely nauseated, sipping on water to calm my stomach. However, once I have food and more pain prescription in my system things definitely start looking up!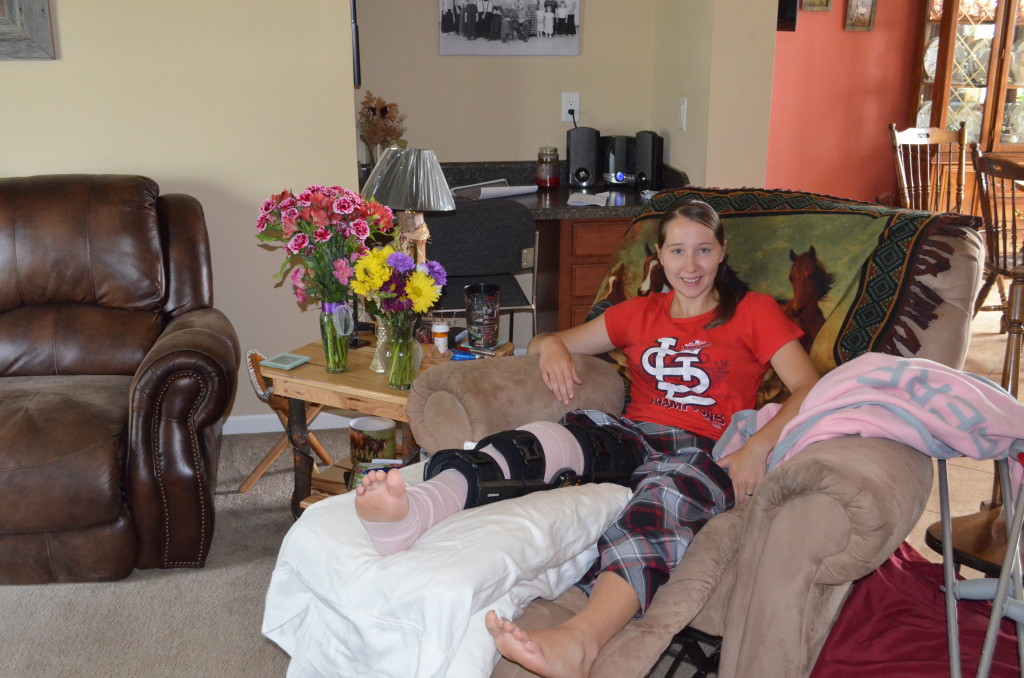 Yep, this is pretty much my station, not being able to bend my knee whatsoever.
However this Anniversary Day did find us doing something together, my dear hubby hauled me in to my first Physical Therapy visit. Where they took off my bandages for the first time and I got to see my incision with 8 staples and the other 4 small cuts with stitches. It really does look good, but with my queasy stomach I didn't want to think about it too long.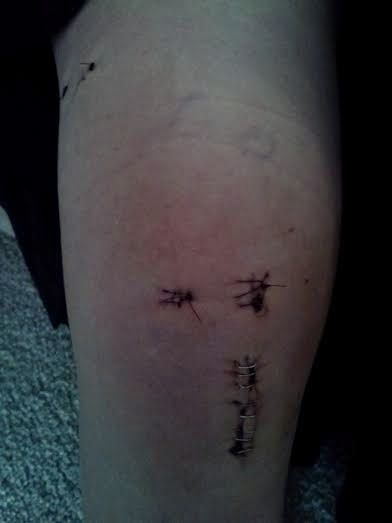 And then we went shopping- (or rather Dan ran into Walmart, lol) We needed gauze and bandages, I know, super romantic!
After that long adventurous journey I was exhausted, and hubby had to go to work a few hours. So my sis said she would stay with me. And while she was here, she proceeded to clean up the house and prepare some food. I had told her along with my mother-in-law and sis-in-law that if they felt led they could fix us a meal or do whatever they wanted to spice up our evening. Well, they truly did just that!
Beings my bandages hadn't come off in 5 days, I wasn't allowed to shower in those 5 days either, so it was with pleasure that I was ready to tackle that task whether I could stand without my crutches or not, I was gonna do this, one-legged or sitting, whatever works! With a matter of time and hubby's wonderful assistance we got it accomplished….and when we were finished and came out into the livingroom we were greeted with wonderful aromas, shades all pulled & candlelit house, table set and decorated in the livingroom by my chair, and a big beautiful bouquet my hubby had snuck in for me. It almost made me cry, they truly did a beautiful job!! My sis snapped a few pictures for us and then they all left, leaving us to our own romantic evening…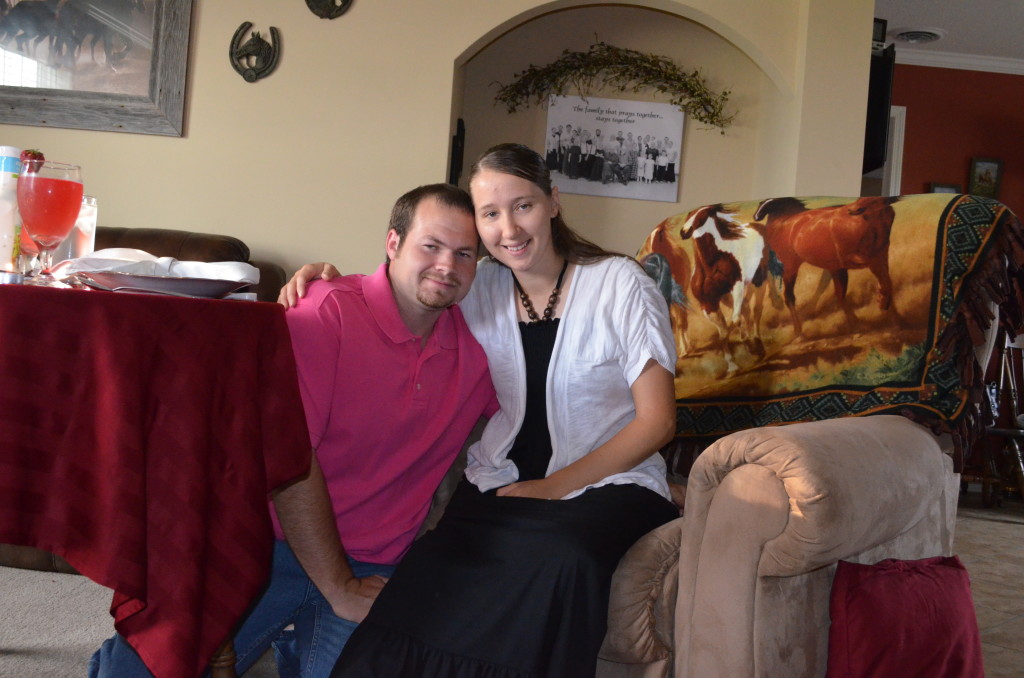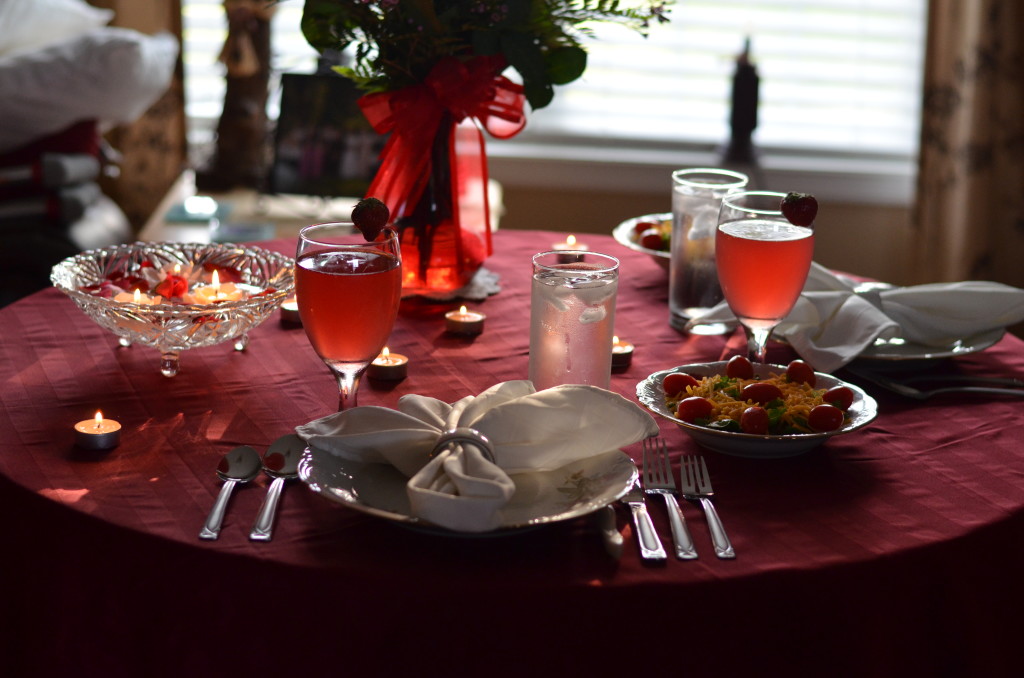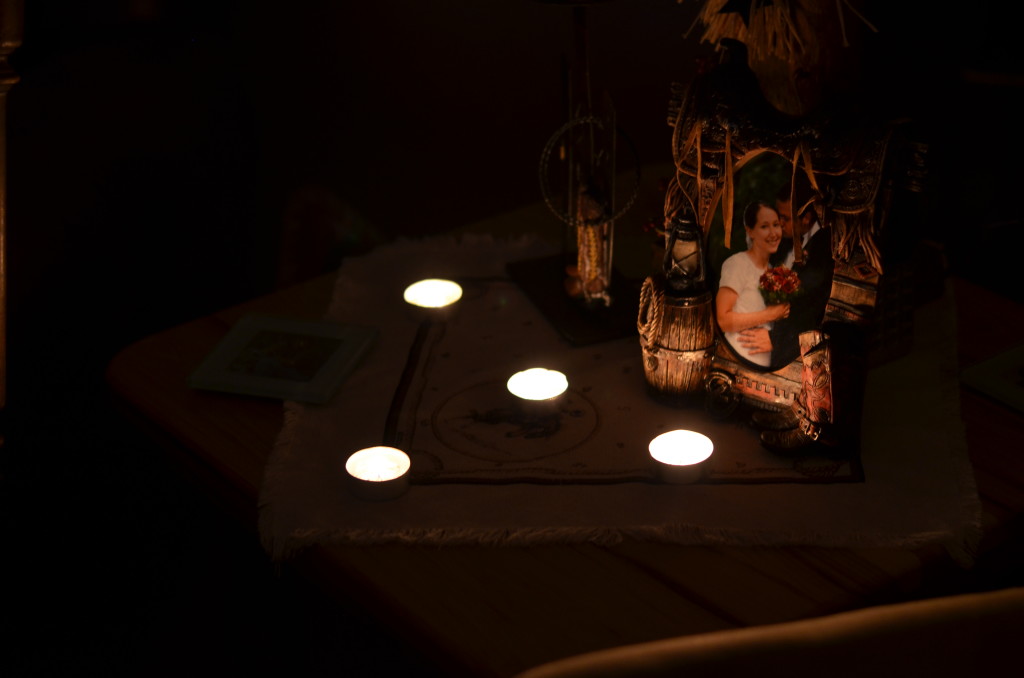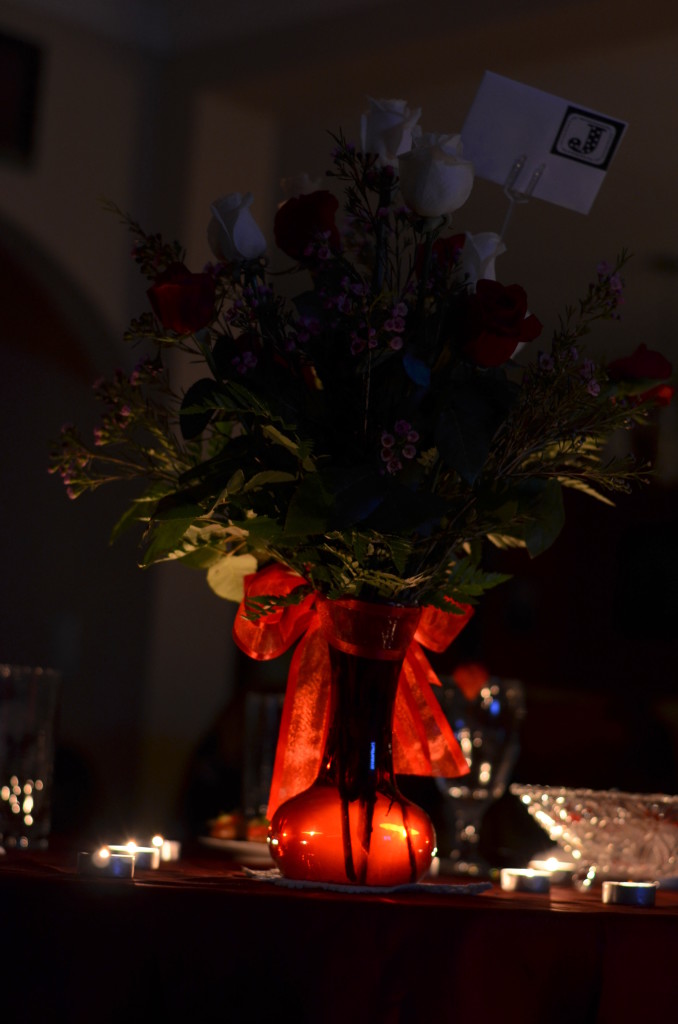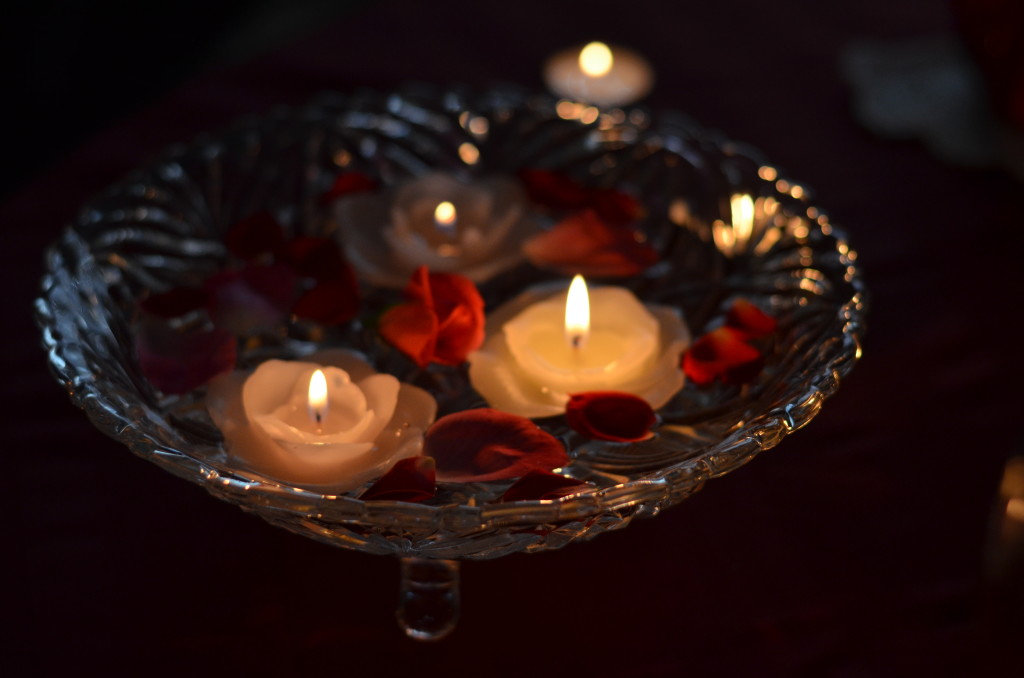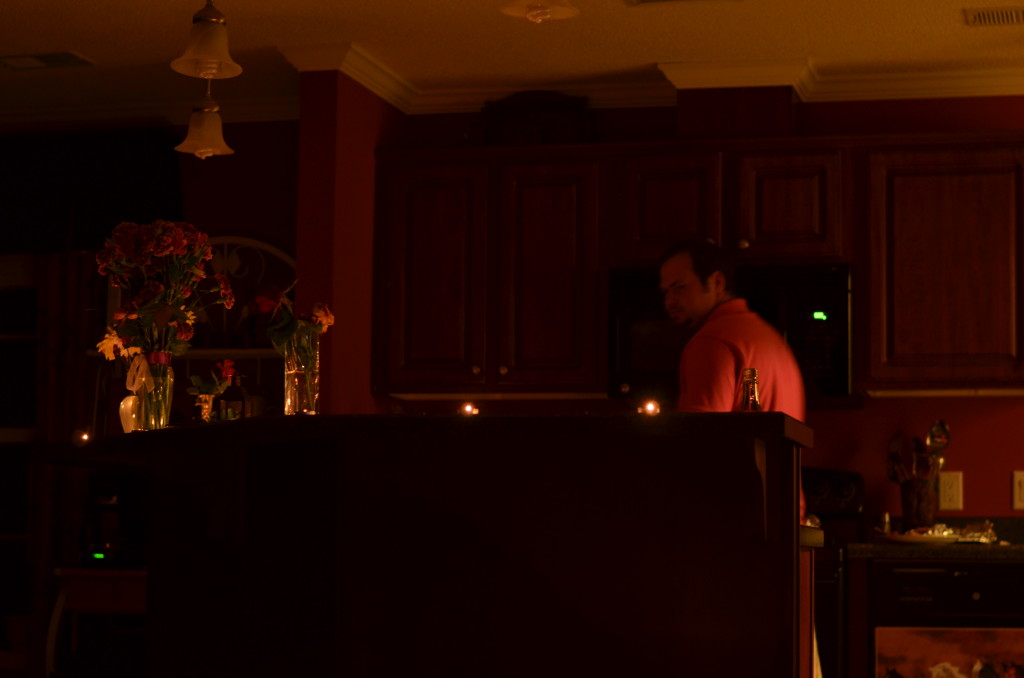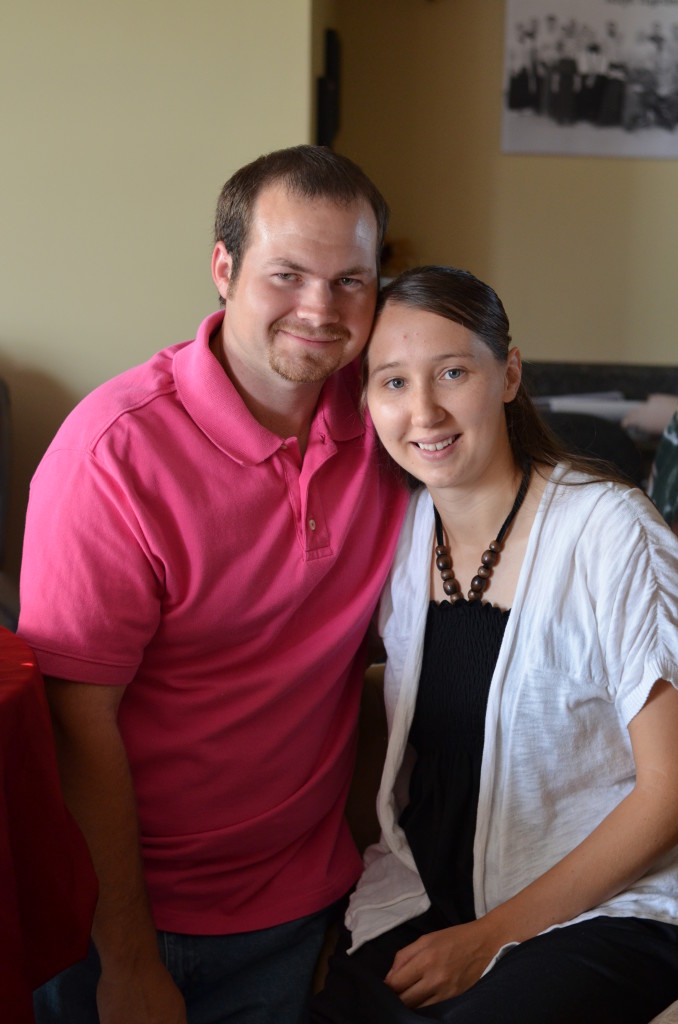 and the food was just as amazing, they had ordered + picked up some steaks 25 minutes away and seriously they were still hot and so juicy and yummy! We were soo tickled!!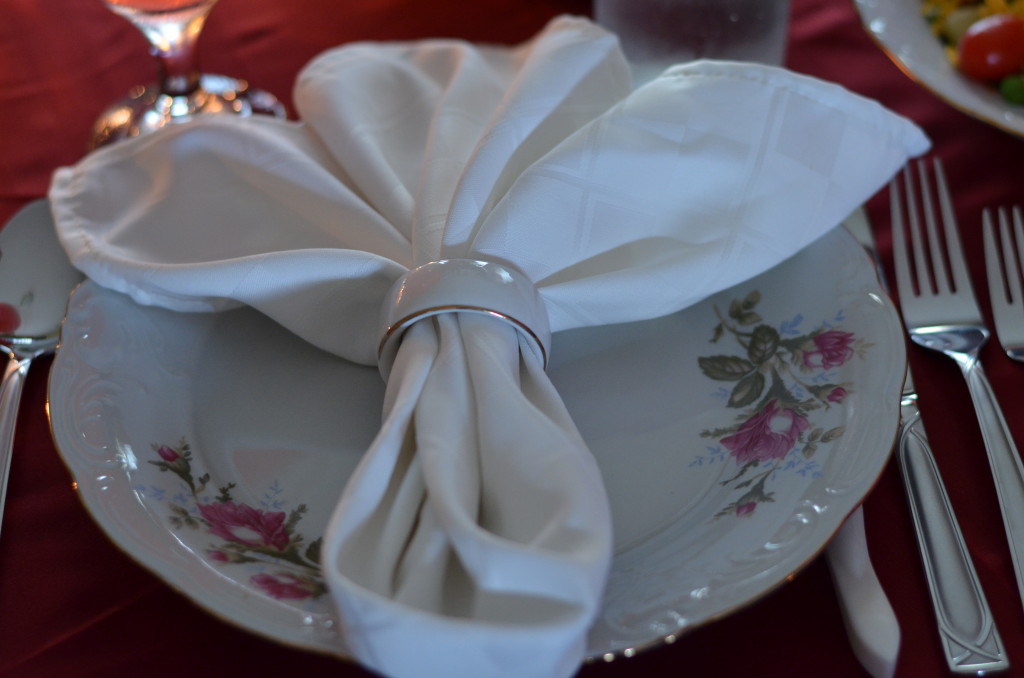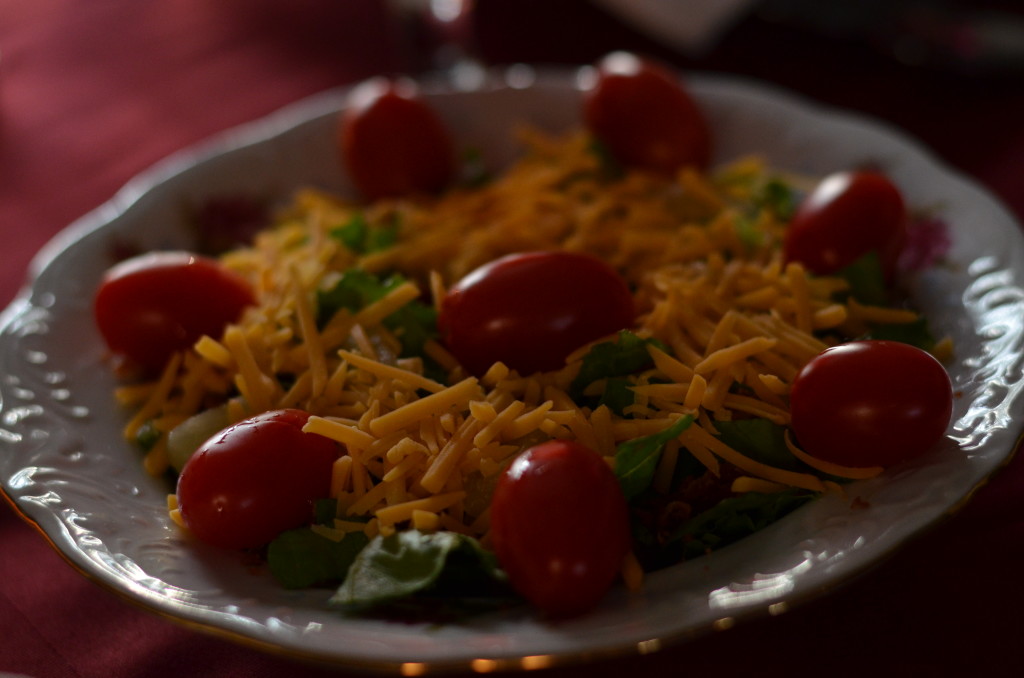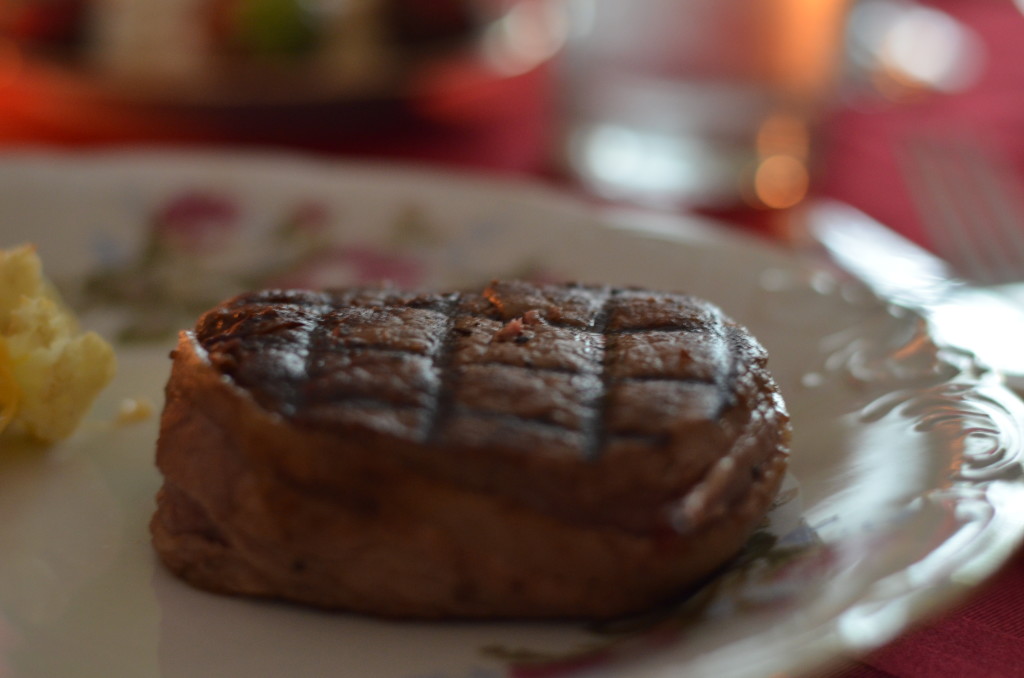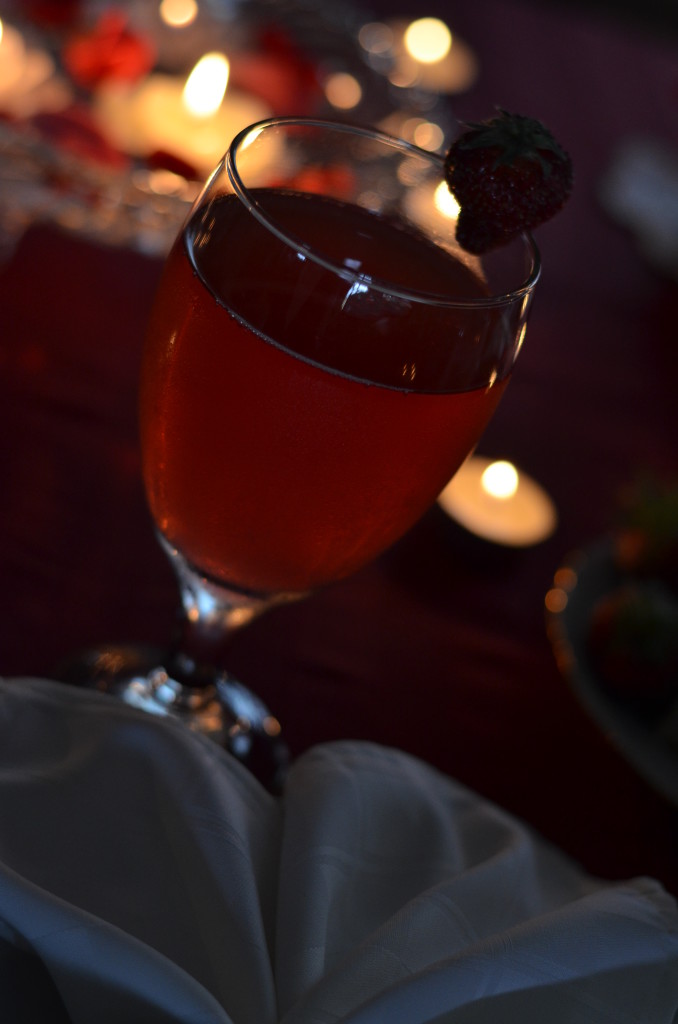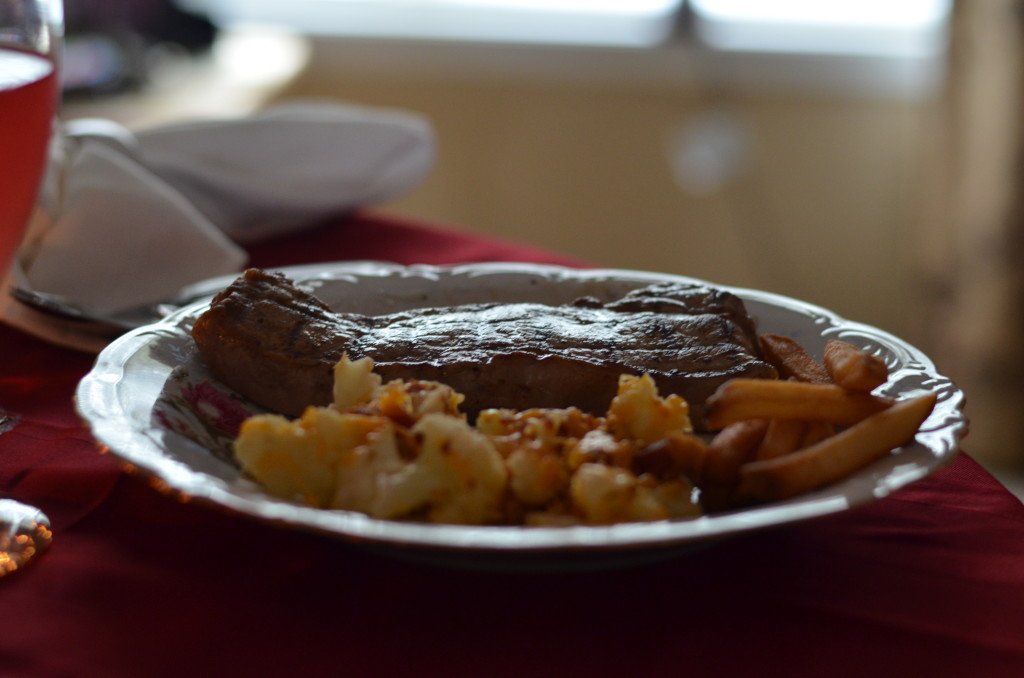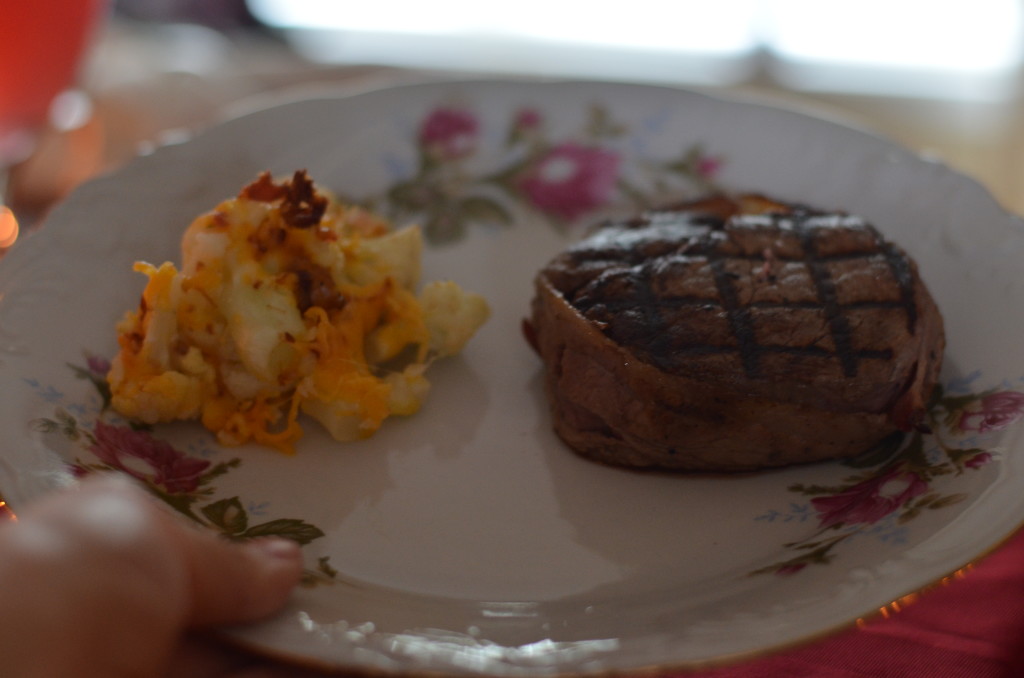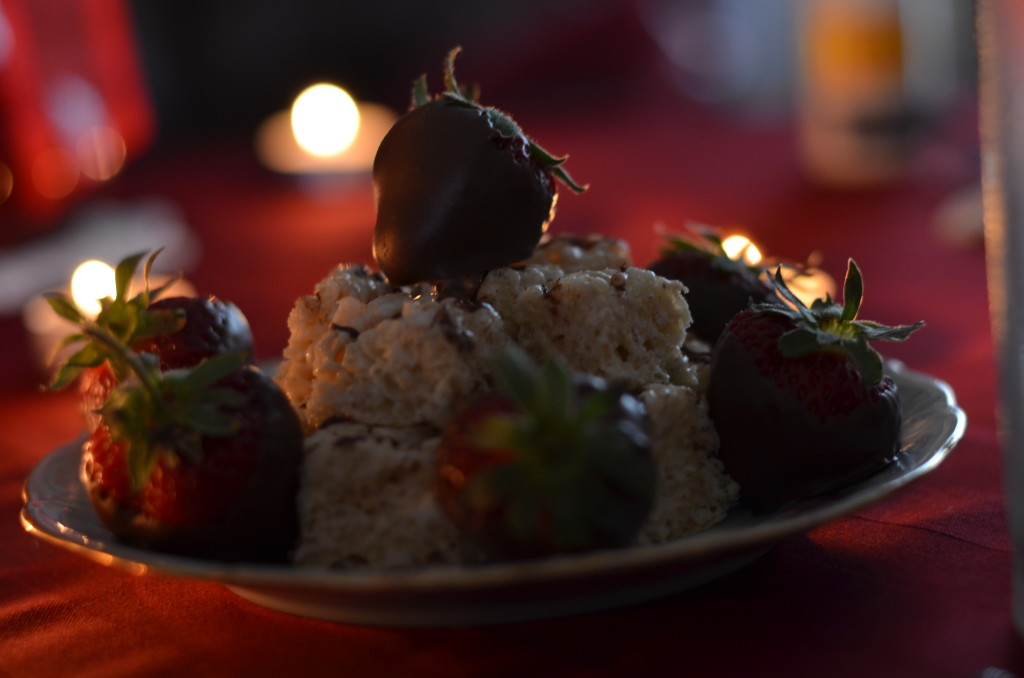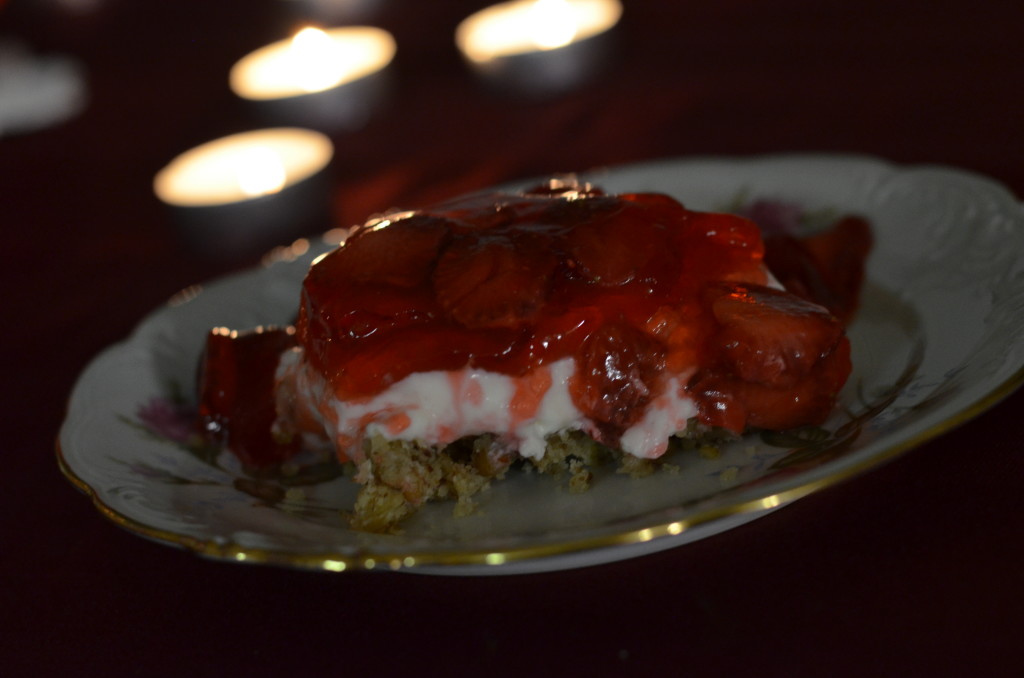 not the most stunning picture, but the flowers sure were!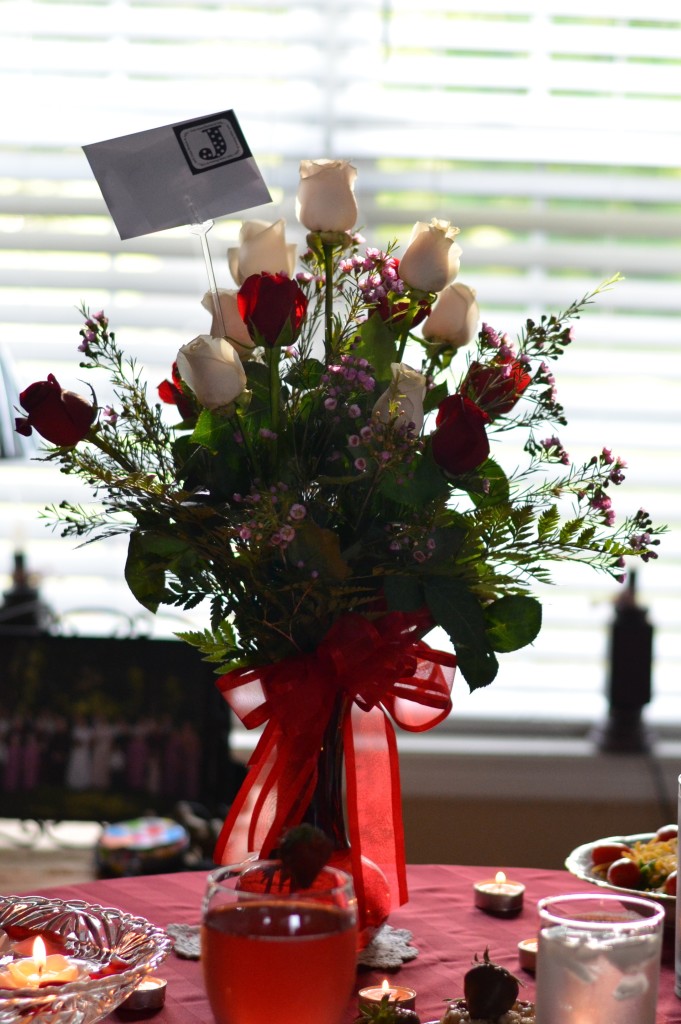 my hubby had the wonderful idea of playing our wedding music, which we still just loove listening to! And we looked at wedding pictures, then curled up (just as good as you can curl with a straight leg brace!) and watched a movie.. Honestly, it was one of the most fun, relaxing, MOST enjoyable evenings we had in a very long time!!  (the winning cherry on top was that we weren't supposed to clean up and they came back the next day and cleaned up the dishes and everything!)
We had the great idea that to save money on gifts we'll buy something that both of us have wanted/needed…a GOOD (ya know, a Cabela's one instead of a Walmart one) thermometer that does indoor/outdoor, along with a rain gauge. Plus then of course add in a lil chocolate 😉
Happy Anniversary my love, I love you so deeply that sometimes my heart feels like it's gonna explode and I wonder how I could love you more, and yet as every year has passed I always look back in amazement because I know I love you more than I did then…how does that work?! We have been through a lot together and I look forward to so many more!!