Finally. Last night was my first night of sleeping through the night without having to take pills, matter of fact without even as much as waking up!! It was super amazing to wake up and discover it's 7:30 AM and I had just slept all night.
I made a major discovery yesterday, when my husband wanted to leave in the afternoon to go to work and my sis came to stay with me. This was my discovery: "This recovery is going to take a LOT longer than I expected"! Yeah, I know, I didn't say it was a good one.. It's just that these pills that I'm taking really do have side affects, which I didn't expect until I was having different issues and got smart and read up on the papers they sent with the pills. The main ones that I have bothered me are: dizziness, itchiness, nauseous, constipation, and sleepiness. The worst by far is feeling nauseous all the time and not being able to get up without feeling lightheaded. Drinking water and eating crackers to keep from puking.
Painwise: it's very tolerable most of the time but I can tell that something is different in my knee as I am starting to feel more pain in it. Keeping it on ice 24/7 seems to help the most. Everytime I stand up I have to catch my breath before I start walking as it feels like all the blood is rushing into what I'm guessing is my big incision and it pulses n pains like it's gonna pop open.
Honey has been home all day today, mowing the yard amidst taking very good care of me! It seems like all I do is sleep every few hours, which I do! But trying to accomplish anything while sitting here wears me out. So this is what I look at most of the day….from the top of my leg to below my heel..it's bandaged up to where my finger is, my pants are just covering it.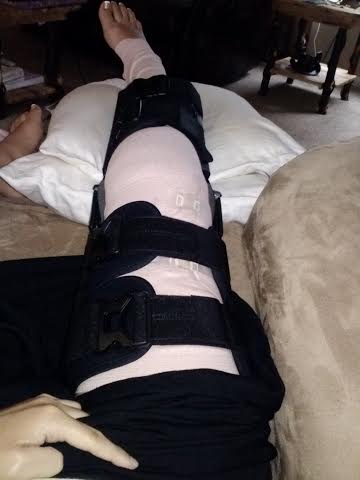 Leah brought us a pizza for supper, bless her heart! Honey wants me to go to bed without taking pain pills just before sleep, I think he's concerned that I don't get addicted to them 🙂